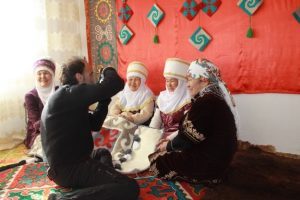 Italian photographer, Marco Palombi, after arriving to Kyrgyzstan in February 2016, met with members of our pastoral network, Kyrgyz el Akyl Kazyna (KEAK) to photographe and film traditional way of life in Kyrgyzstan. Abroad, specifically in his own country, Marco Palombi is a famous for his own style and direction. Often his works touch upon the life of the west and the east, and their contrasting differences. Most of his works can be seen on www.marcopalombi.it


During the meeting he was keen to hear stories about the female traditions and guardians of Kyrgyz traditions and values. He was most touched by the songs and komuz, a traditional two-string instrument, played by elderly women. This was what the story was about.




Representatives of KEAK conducted master-class for Marco on preparation of bydjy, a Kyrgyz version of haggis, which he feasted with other national dishes.

Photographs and videos can be seen in our website gallery.